MOTO AIR FOAM AIR FILTERS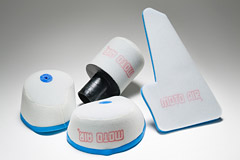 Moto Air filters are available for most engine applications in motocross, enduro and off road. Moto Air Filters are also suited for applications such as motorcycles, rototillers, small garden tractors, lawn mowers or farm implement equipment.

If you cannot find an Moto Air filter to fit your application, please call the Moto Air Technical Services Department at 0031 (0) 345-575 499 for availability and price quotes on filters to fit your application.


TWO DIFFERENT LAYERS OF FOAM
Moto Air filters filter the air better and let more clean air through. Two different layers foam air, the white coarse outer layer and the blue fine inner layer, work effective. After the white layer pre filters the air, the blue layer removes the fine dust particles.
Moto Air filters:
Are cleanable and re-usable - saves money on replacement filters
Offer full-depth filtration - stops and holds more dirt than conventional paper air filters
Improve airflow characteristics - up to 50% more air flow than pleated-paper
Helps extend engine life - effectively eliminates wear-causing airborne contaminants
MOTO AIR PRODUCTS
From everyday riding to the most adverse conditions nature can dish out, you want engine protection you can count on. Moto Air products will provide your motorcycle with maximum intake protection. Day in and day out!
Moto Air Dust Filters
The Dust Cover is a coarse-foam prefilter that is designed to fit over your Moto Air filter. It provides an additional layer of protection for your engine when riding in severe conditions such as heavy dust and sand. It also extends the service time between filter cleanings. Dust Covers require oiling for maximum benefit.
Moto Air Filter Cleaning Set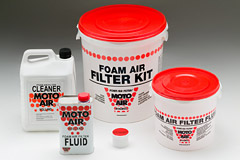 Filter maintenance
is easy when using the Cleaning Tub. Our resealable tub includes a filter tray that allows dirt to sink to the bottom of the tub, away from your filter. For even oiling, submerge your filter in the Oiling Tub. Simply wring out excess oil from your filter and store unused oil in the resealable tub.
Moto Air Airbox Covers
The Airbox Cover prevents water and cleansers from entering your intake when cleaning the airbox. Airbox Covers are manufactured from tough, durable ABS plastic. A rubber sealing ring is provided to ensure a perfect, leak-free fit. To use it, simply remove your airfilter from the airbox and install the Airbox Cover with the provided mounting screw.
Moto Air Filterfluid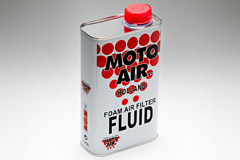 Simply the best foam filter oil available! Many filter oils have a tendency to drain to one side of the filter, leaving part of your filter unprotected. Liquid Power filter oil is specially formulated to go on as a liquid for easy filter penetration. Solvents in the oil dissipate quickly, leaving a sticky, dirt gathering oil on your filter for superior protection.
Moto Air Filter Cleaner
Our Liquid Dirt Remover is formulated to quickly cut through filter oil and loosen dirt from your filter. It will not harden or damage filter foam like solvents and gasoline do.